Teen: mild violence, suggestive themes, use of chocolate
Content Rated By ESRB(
trademark used without permission
)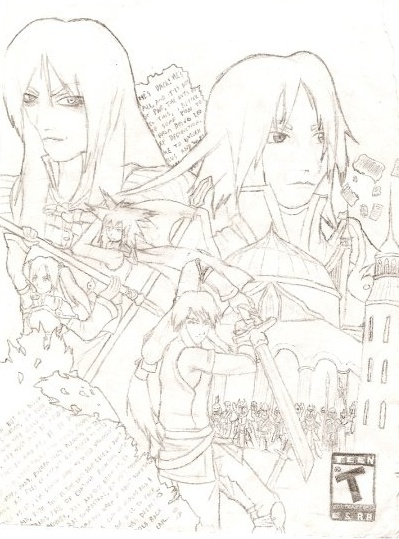 i rated it myself XD
the story tells about one character and it's two companions
the main character is selected by you and the first part of the story changes depending of your main but the ending varies depending of some actions
main characters
Ray
Spoiler:
May

Spoiler:
Yayo
Spoiler:
other
Arthur
Spoiler:
Geoff

Spoiler:
Blade:
Spoiler:
Razor

Spoiler:
Karie

Spoiler:
Enemies
Rouzen
Spoiler:
the story
Arthur is a well-known hero in the continent of (name not decided yet), after he accomplished his unknown objective, his only mission was to take care of three kids who wants to grow strongers beside him.
They were selected to missions in charge of Blade and Geoff, experienced warriors who knew Arthur long ago, their missions were from protecting villages to chase bounty hunters. After that a big mission came around, it happens than someone is scheming to take over the kingdom of Tamallia, this man name was Lord Vellian, a sorcerer with mischievous powers, after they chase after him they find out than Vellian is under control of Rouzen whose happens to be a Dark God, the three heroes asked Arthur for answers but he sem not wiling to answer.
the three heroes researched on Arthur's personal library and then they found out than...
_
He is the Astral hero who once fought the odds to bring safety to the galaxy, than he fought along and against gods, and than Rouzen was behind all of that, Rouzen is the god who rules the Dark Nebula:a place when evil returns after death
All of this was impossible to believe, then Karie, Arthur's main assistant explained them about that, seeking for the truth the heroes chase after Arthur and then they winess a battle between Those Two.
Rouzen defeted arthur and said:
these kids know about us, perhaps they will be as fun as you are
. And then he fled, arthur then told them all he knows, three days passed and Arthur discovered where Rouzen was and he chased after him, the heroes were going to help him but he said:
_No, you guys stay here, this is far more dangerous than you think, wait for me, i'll be back
the guys ignored his advice and silently they followed him, he catch them at the time he knew they were there, he said then:
-
Ah, guess i can't stop you, well you may come but do not interfere, stay hide, don't let he see you guys, this one is SERIOUSLY,
at the time they fought rouzen said,
do you know why i came here?
Arthur said then: to take me down finally
nope, i came here to provoke the powers of the Astral Flux,
arthur seems impressed, then he continued speaking
- the astral flux is the main source of energy of the entire universe, if the astrral flux sees there's a power then may cause problems to the galaxy, then it'll explode and destroy all in there, even the gods
So, i decided to use that power to bring the world down by once
and then Rouzen showed up all of his collosal power, which warned the astral flux, and then the explosion started
...........it..is.....i..it's over?
Not yet
rouzen apparently drained the powers of the astral flux with the explosion
and he said: At last, i am the strongest being in existence, if yoy still think you can stand against me, come to my castle at the top of the mountain, till now Survive When You Still Can. and he left flying with spreaded crimson wings
looks like the time has come to us to stand against the very power than rules us: Arthur said
the heroes, and the other warriors of Arthur's armada stand now in front of the Great Door Of Divinity, ready for the final showdown with the Perfect One. and so the story follows it's end
the door opens in front of arthur and his comrades, they get into the castle, and they face all kind of ordeals, they're attacked by soldiers and monsters, as the battle grow fierce they marched forward looking for the key than opens the Last Frontier Door, then they faced enemies from the past, and after they struggled them to death the key appeared at the lock, the Door opened by itself and a cold air blewed from the entrance.
there is he waiting for the heroes, no more turning back from this point
- Congratulations, you made it, i was sure you would surely overcome the trials, but, no matter how much power you do have, i have more, and the faith you have won't save you, for all your hope dies here, and your fate is under my Divine judgement: final quote from Rouzen, and then the final showdown begins